Die Zerstörung Gazas / The destruction of Gaza
Mai 2021
Siehe auch Karten zu
früheren Jahren
---
27. Mai 2021
Erste UNO-Karte und erste Daten zu
Zerstörungen im nördlichen Teil des Gazastreifens /
destruction in the northern part of the Gaza strip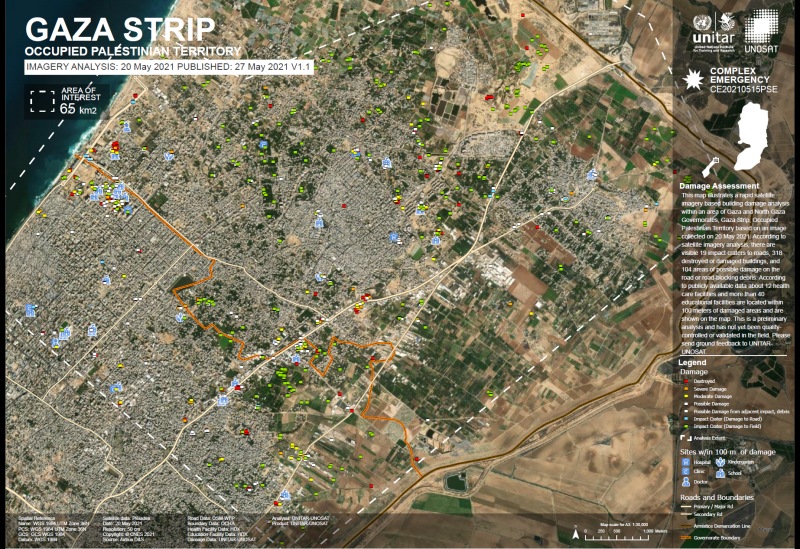 UNOSat-Karte
Mit CartoDB erzeugte interaktive OSM-Karte mit Daten von
UNOSAT
und angepasst wie bei '
Datenjournalist
' /
interactive OSM map generated with CartoDB using data provided by
UNOSAT
Zur OSM-Karte siehe wiki.openstreetmap.org-Projekt '
2014 Gaza Strip
'
Zerstörungspunkte werden nur sichtbar, wenn die Verbindung zu CartoDB hergestellt werden kann. /
Destruction dots will only show up if there is a connection to CartoDB.
1: Possible Damage, Moderate Damage, Severe Damage, Destroyed
3: Impact Crater (Damage to Road)
4: Impact Crater (Damage to Field)
5: Possible Damage from adjacent impact, debris
Gesamtkarte
vom 5.6.21
In der Datenübersicht sind die Zerstörungen inkonsistent zugeordnet, deshalb vorerst keine CartoDB-Karte.
In the data list the damages are assigned inconsistently. Therefore for the time being no CartoDB map.